It was quite a treat to be invited at the IS Precision tour. With out no doubt Drive Culture wasn't going to miss this event. Specially when you get a chance to drive the all new Lexus Super car LFA….Yes, the LFA folks ! !
The morning started out bright and early for us as our appointment was at 8am. Leaving South San Francisco at 7am, still early that our windshield was still frozen. As we approached Sears Point Raceway I knew quickly that there was no turning back.  Quickly met with Ryan who made this driving experience happen for Drive Culture with the dream car. With no time wasted we were directed to the registration booth and grabbed a quick bite provided by Lexus Corp. Then we were introduced to our driver Greg that was going to guide us on the track, he fitted us with helmets and off we go. As we walked towards the pit area a fleet of IS F's arrived in front us and to side was the LFA's roaring while in idle.
Before we can drive the LFA we got to drive the IS F to warm up and learn the track lines of the track. With two laps in the IS F, we were ready for the LFA. One thing I noticed once I got into the LFA, the LFA was actually much comfortable than the IS F. Greg again showed us the ins and outs of operating the beast. Two laps in the LFA at Sear Point Raceway was what we got. Two laps of the best driving experience so far of my life. The feel, the sound and the response was all there ! ! It's an incredible car and very well done from Lexus. I know this is only a very short story that we have told you but hoping our coverage can give you a feel of this very exciting event.
Hence as you can see I have used the the name Sear Point Raceway not  Infineon Raceway. As part of the event Lexus invited their professional drivers to be part of this tour. Scott Pruett was there and I suddenly remember coming to this track back in the days. In the same track that Scott Pruett drove in the IMSA GTO and then the Trams Am Championship series. His career just excelled as fast as he drove his cars. Today his latest racing win was the the 24 Hours of Daytona, his fourth overall victory in the event. Also a local Northern Californian, you can find him self spending some time at his vineyard.
Enjoy the coverage ! !
Jim (Lexus) and Scott Pruett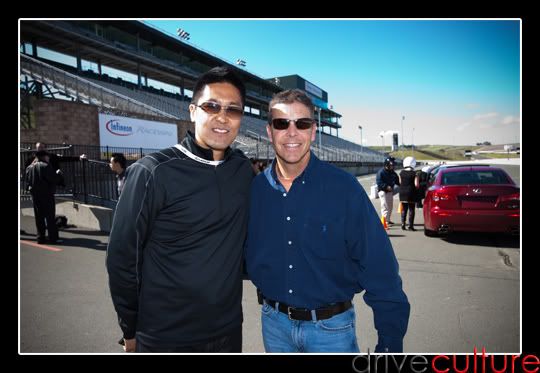 Club Lexus members in the IS F about to ride on a hot lap with Scott Pruett
Ryan Bascafra (CL Editor) and Moto (Owner of Club4ag.com)
Solo (GoWithSolo) and Paul Williamsen (Lexus)
LFA about to tackle turn 2
LFA trailing IS F on turn 7
Passing the pits on a hot lap
LFA entering pit area
Legend driver Scott Pruett with the two LFA's
CL Members witht he two LFA's on the finish line.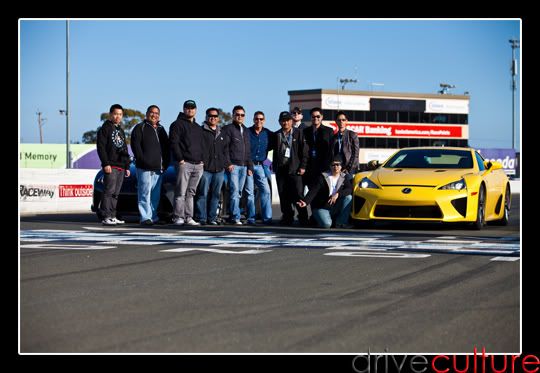 Photo credit to DriveCulture.com staff
This SimpleViewer gallery requires Macromedia Flash. Please open this post in your browser or get Macromedia Flash
here
.
This is a
WPSimpleViewerGallery
Related posts: